About the Study
We are inviting you to take part in a research study, which will use data collected during ultrasound scans and possibly also an MRI scan to image your baby. Before you decide it is important for you to understand why the research is being done and what it will involve. Please take time to read the following information carefully and discuss it with friends and relatives if you wish. Ask us if there is anything that is not clear or if you would like more information.
There are two parts of the study for which we will need your help.
iFIND-1: Collection of data from your routine 20 week antenatal ultrasound scan
If you are happy for us to do so we will save the ultrasound data from your scan to use for research to help us improve ultrasound scanning in the future. If you agree to this, the scan itself will be performed exactly as usual but the ultrasound data from your scan will be saved and will be pseudo-anonymised. This means that anything to connect the data to you (name, data of birth etc.) will be removed and replaced by a Study Identification number.
An Ultrasound image
Our Participant Information Sheet – iFIND-1 Data Collection
iFIND-2: Collection of data from a further 3D ultrasound scan and an MRI scan
If you are happy for us to do so, we will take some additional ultrasound and MR images of your baby and use the data to teach our new imaging system the best way to capture high quality images. We would also like to collect as many images as we can to build a database of fetal anatomy which computer programmes can use to compare with new ultrasound images. In this way we hope to be able to automatically detect different fetal organs and diagnose whether or not they are developing normally.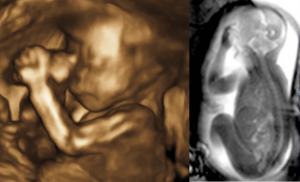 A 3D Ultrasound image (left) and an MR image (right)
Our Patient Information Sheet – iFIND-2 Further Imaging